Main image
Click to view image in fullscreen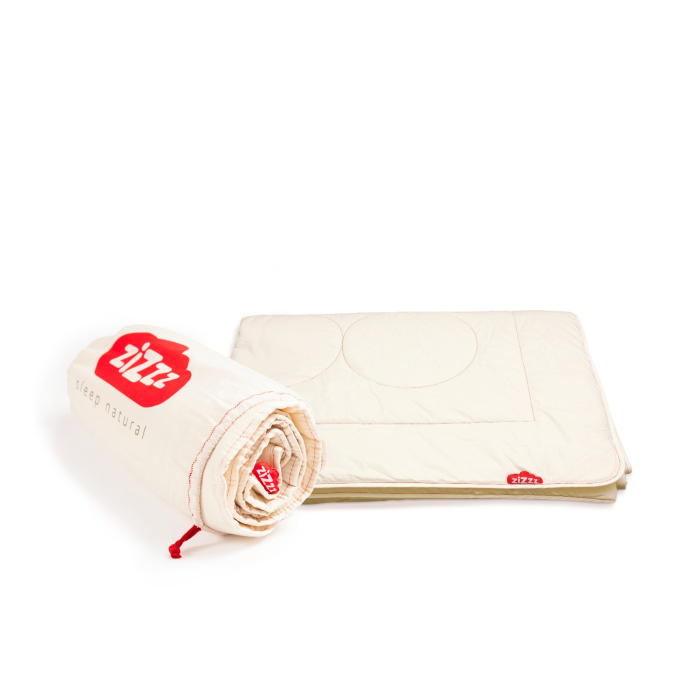 Kids Duvet 100x135cm – 4 Seasons – 290g/m2 Swisswool Filling
Colour/Design
Natural Ecru organic cotton
Swisswool Premium Duvet – 100x135cm
Our light and airy duvets with Swisswool provide a very comfortable sleeping climate all year round.
Wool is not just an insulator, but also acts as a temperature regulator. Because it naturally absorbs and releases moisture, a wool duvet warms you up quickly, but the fabric's exceptional breathability ensures that you do not overheat.
The Swisswool is covered with a very fine fairtrade cotton batist that is very soft and smooth to the touch.
Machine washable at 30° (wool program).
Anti allergy
Yes
Fill weight
290 g/m2
Isolation Level 1-5
3
Season
Year round
Filling
Swisswool
Fabric type
Satin (organic cotton)
Size
100x135 cm
31-12-2022
Livraison très rapide ! Nous la trouvons assez fine mais ça sera pratique pour la laver. Je pense que comme décrit elle reste très chaude grâce à la laisse. Le produit à l'air d'être de très bonne qualité. Aussi pratique car est livré dans une housse dans quand notre fille dort ailleurs il est pratique car on peut la prendre facilement avec ! Nous adorons les valeurs de la marque et aussi que se soit Suisse ! Merci
28-11-2022
Großartige Qualität, dabei absolut alltagstauglich (Reinigung!) und universell einsetzbar
02-06-2022
Très contente du produit
13-05-2022
Das Produkt war ein Geschenk für mein Engelchen und ich kann noch keine Bewertung abgeben.
21-12-2021
Genial ! Doux, souple et chaud :) très agréable!
27-10-2021
Le duvet en laine est super pour celles et ceux qui ont tendance à transpirer la nuit. Je recommande vivement!
25-08-2021
Bonne qualité, bonne taille, mais prix assez cher.
24-04-2021
Qualitativ sehr hochwertig ***
Items 1 to 10 of 70 total
We found other products you might like!