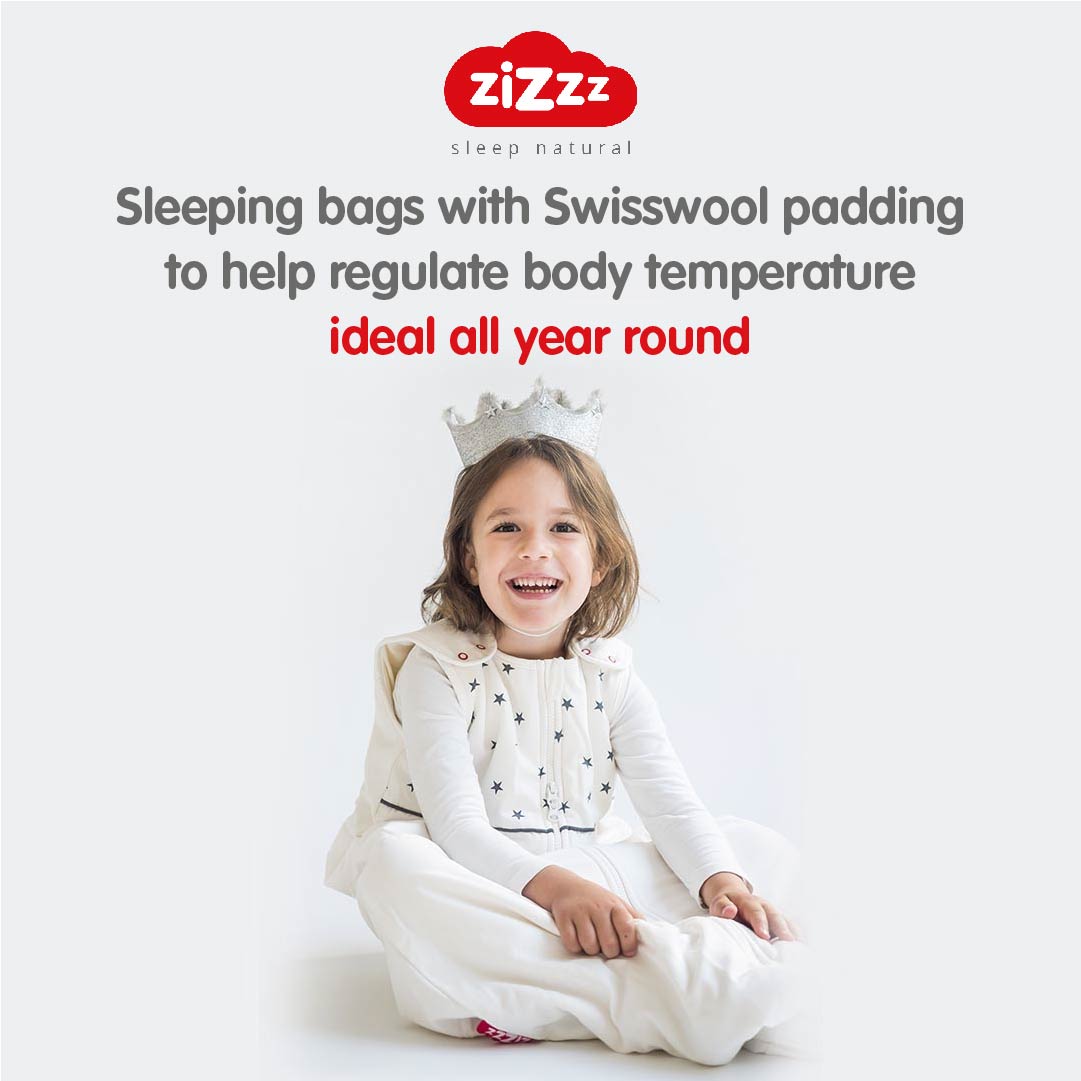 + Our Swisswool filling effectively regulates body temperature, creating an environment conducive to quality sleep.
+ The insulation provided by wool also makes our sleeping bag an excellent choice for winter use.

+ Designed with care in Switzerland and crafted with meticulous attention to detail in Portugal.

+ Available in four sizes for children aged 0 to 6, ensuring comfort tailored to each stage of their growth.
+ Free delivery and a 30-day trial option.
View all Reviews
Hide all Reviews
Die Qualität stimmt. Es sind Superprodukte - schon mehrmals gekauft.

Excellente qualité

Excellente qualite

Super qualité. Ma fille n'a ni trop chaud, ni trop froid, ça change vraiment d'une gigoteuse en polyester. Le matin l'intérieur est bon chaud alors qu'il fait 17 degrés dans sa chambre en ce moment. J'en ai commandé une deuxième tellement je suis ravie

Super Schlafsack

Kuschelig warm. Für die wärmere Übergangszeit etwas zu warm. Hier würde ich bereits den dünnen Baumwollschlafsack einsetzen.

parfaite

Meine Kleine liebt es im Schlafsack. Sie kann sicher sehr gut drehen im Schlaf. Sie friert seit dem nicht mehr und wir müssen sie nicht mehr voll einpacken. Die Öffnungen sind sehr praktisch und man kann es dem Kind anpassen (Reissverschluss oben oder unten, Knöpfe eng oder locker). Am Stoff selber merkt man, dass es sich nicht nach Massenproduktion anfüllt sondern, dass es Qualität hat und Langlebigkeit. Das war ein sehr wichtiger Punkt bei der Auswahl. Das Geld ist es definitiv wert. Das wohl meines Kindes ist mir wichtig. Auch im Schlaf.

***

sitzt gut, wirkt innen sehr angenehm, Baby schläft gut

Sehr gute Qualität.

Top

Warm und leicht

Génial bien chaud

Einfach super!

Das ist bereits unser zweiter zizzz Schlafsack, weil uns der erste so gut gefallen hat.

Super produit, enfant conquis. Qualité au top. Hyper doux.

Alles super

Sehr temperaturausgleichend, sehr zufrieden.

Unser zweiter Schlafsack, da der erste zu klein wurde. Leider hat der grosse keine Durchführung am Rücken für den Kindersitz.

Toller Schlafsack!

Très bonne qualité :)

ein wirklich toller Schlafsack. Sehr durchdacht und tolle Qualität!
Nur 1 Optimierungsvorschlag: bei den Ärmellöchern auch Druckknöpfe anbringen um diese besser an das Baby anzupassen. Am Anfang sind diese nämlich noch ziemlich groß und geht daher Wärme verloren.

Top!

Hervorragendes Produkt

Weihnachtswunsch unserer Tochter für unseren Enkel,der aus der ersten Größe rausgewachsen ist.Alles zufriedenstellend

La plus jolie :)

Excellent produit

super produit

Alles top

Belle qualité et très confortable !

voor avis precedent

Très belle et avec des matériaux de qualité. Point d'attention sur la fixation de la laine et risque de dégradation de la couche de laine car il semble y avoir peu de coutures pour la maintenir en place

Sehr zufrieen mit de ersten Produkt

Le design est très joli. Le tissu est extérieur est résistent mais assez doux. Mon bébé dort des nuits très tranquilles, car la gigoteuse maintient une température idéale, entre son corps et la température extérieur. Après plusieurs lavages au fil des mois, l'excellente qualité do produit est maintenu.

Sehr gute Qualität, auch von unserem Kind bemerkt!

Der Kleine schläft sehr gut darin.

Bon produit de très bonne qualité.

I am a big fan of these sleeping bags: I own them in all sizes, and use them for both of my kids. In these bags my kids are neither sweaty nor cold, which helps them sleep better at night. Moreover, they look and wash well! I recommend getting 2 bags of the same size, since it takes a while for them to get dry after washing.

La mejor apuesta para los niños siempre! Muy buena calidad. Les proporciona el mejor descanso a los niños y por tanto todos dormimos bien!

Schönes, schlichtes schlafsack.
Ganz wichtig ist dass die schulter per knopf komplett öffnen damit das baby nicht strapaziert beim anziehen wird.
Ein Nachteil ist dass der zipper von Reißverschlüss unbedingt erst unter den kinn schließt und dann kann mann hoch und runder fahren. Es wäre viel einfacher wenn es unten erstmal schließt. Wenn das baby schon eingeschlafen im Schlafsack legen möchte und will man unterm sein Kinn schließen stört es oft.
Noch alleine mit diesem Schlafsack wird es nicht warm genug bei 22-24 grad im Zimmer. Ich decke noch mit eine leichte Wolldecke oder mann muss wärmer anziehen als während des Tages zuhause.
Es lässt sich problemlos in der Waschmaschine waschen.
Ich würde es unbedingt empfehlen aus diese Gründe und vor allem kein Plastik! Auch kein Daunen was brutaler in der Gewinnung ist.

As ever superb quality

Wir lieben die Qualität von Beginn an. Nie waren wir uns sicherer, das richtige Produkt gewählt zu haben. Warm, kuschelig, atmungsaktiv. GROßARTIG!

Les Gigoteuse Zizzzz sont des produits de qualité innovants. A la maison tous les jours ou en voyage, l'enfant y dort confortablement, toujours à la bonne température et en tant que parents on ne se pose jamais la question si il est bien couvert.
Et le fait d'avoir des Gigoteuse aussi pour les enfants plus grands est génial!

Tolle Materialien, super Verarbeitung, schönes Design. Ganzjährig verwendbar - nie zu kalt oder zu warm.

Ich habe vor längerem einen Occassion Zizzz Winterschlafsack 6-24 Monate gekauft. Da ich sehr zufrieden mit dem Schlafsack bin (super Material, dass für den Kleinen ein gutes Schlafklima macht, sehr schön verarbeitet, einfach anzuziehen und der Schlafsack hat eine schöne Optik) haben wir uns jetzt einen neuen, grösseren Schlafsack geleistet. Auch der Bestell-/Versandservice stimmte. Die Produkte haben zwar ihren Preis, ich finde diesen jedoch gerechtfertigt, da das Unternehmen bei der Herstellung auf Nachhaltigkeit und Fairness achtet.

Fijne slaapzak voor mijn peuter. We hadden ook de baby-variant en deze beviel ook goed.

Sehr guter Schlafsack. Mein Kind schwitzt nicht und auch nach 2-maligem Waschen hat der Schlafsack nichts an Qualität eingebüßt.

Superbe gigoteuse qui régule vraiment bien la température lors de chaque nuit de notre petit loulou.

Superbe gigoteuse qui régule vraiment bien la température lors de chaque nuit de notre petit loulou.

Très bien