Main image
Click to view image in fullscreen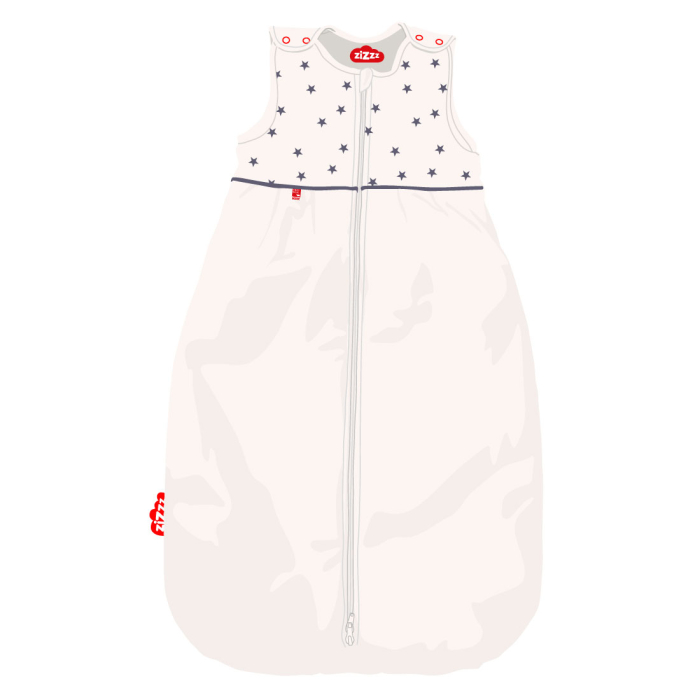 Baby sleeping bag Lucky star / 6-24 Months (90cm)
A comfortable and practical baby sleeping bag, designed for better sleep
Breathable Swisswool padding helps to regulate body temperature, allowing for deeper and more tranquil sleep.
With our practical double zipper, you can change your baby's nappies without removing the sleeping bag.
An opening on the back allows the sleeping bag to be worn in a car seat or buggy, so you can put your baby straight to bed when you arrive home.
Made in Europe from 100% natural, ecological and toxic-tested materials: Swisswool and bio-cotton.
TOG

The textile industry uses TOG values as an indicator of a product's insulation power. You'll often see TOG values listed on baby sleeping bags made of polyester. We don't believe it's very useful since our products are breathable and help to regulate your baby's body temperature naturally.
However, if you twist our arm, our TOG value is roughly 2.5
Anti allergy
Yes
Season
Year round
Filling
Swisswool
Fabric type
Organic cotton



Practical design
One bag, four seasons
No scratchy label on neck
Chin protection
Can be worn in car seat or buggy
Adjustable neck size
Machine washable
If your baby sleeps better so do you
Design: Lucky star
Could there be anything better for your baby to sleep with than stars? Motives with stars are soothing and positive. Let your baby go to bed with his/her lucky star.
Fabrics
Inner Lining: Soft and silky knitted bio-cotton
Outer lining: A soft but durable woven bio-cotton
Filling: Breathable Swisswool
Size
90 cm
21-12-2022
Was mich aber ärgert: Dass ich erst bei Kind 3 diese tollen Schlafsäcke gefunden habe :-D Wenn es welche zur Auswahl gegeben hätte, hätte ich wohl eine dunklere Farbe gewählt. Weiß ist einfach extrem anfällig und nach einem Tag war der erste schon dreckig. Da man ja nicht warm waschen kann, ist es fraglich ob das je wieder raus geht. Mega ist der robuste Reißverschluss und das Öffnen von beiden Seiten. Auch das Loch hinten für den Autositz mussten wir schon einmal nutzen und es ist Gold wert. Könnte mir keinen besseren Schlafsack vorstellen. Sobald mein Wurm läuft, werde ich noch Füße dran nähen. Das fehlt noch im Shop ;) Das alles nur als konstruktive Kritik. Volle 5 Sterne!
27-04-2022
Angenehm und ausgleichend. Ideal, wenn man gern bei offenem Fenster schläft.
06-04-2022
Top Qualität, meine Kleine hat nie darin geschwitzt
21-02-2022
Unser Sohn fühlt sich im Schlafsäckli sehr wohl.
03-12-2021
Sehr empfehlenswert.
10-11-2021
Das Schlafsäckli ist sehr praktisch, da unser Sohn immer zugedeckt ist.
27-10-2021
Der Schlafsack ist schön warm und qualitativ sehr hochwertig. Auch der Reissverschluss hakt nicht, was bei anderen Produkten negativ aufgefallen ist. Leider ist der Schlafsack etwas steiff und raschelt.
11-03-2021
Siehe Anbieterbewertung.
Items 1 to 10 of 56 total
We found other products you might like!